For study guides, learning objectives, and more please click the image or detail link.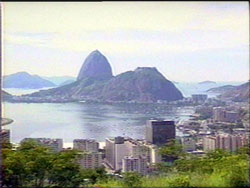 Price:
$39.95.
Length:
22 Minutes.
Number of Parts:
1.
Release Date:
8/6/2004.
UPC:
693940208836.
Features:
Region Free.
Learning Objectives:
1) An overview of the geography and climatic conditions that shape the South American continent will be provided.
2) Some of the major landscape features of South America--rivers, mountains, plains, and waterfalls - will be shown.
3) Students will be given a basic introduction to South America - to its people, to their traditions, and to the agriculture and industry that support them.
Study Guide:
View Guide
From the Caribbean to Tierra del Fuego, from the mouth of the Amazon to the Andes --the history, cities, geographical features, and people of South America are investigated. Narrated in English.