For study guides, learning objectives, and more please click the image or detail link.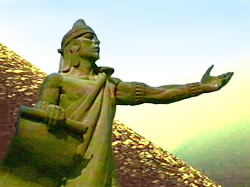 Price:
$49.95.
Length:
25 Minutes.
Number of Parts:
1.
Release Date:
7/23/2004.
UPC:
693940206139.
Features:
Region Free.
Learning Objectives:
1) Students will learn about the depth of Native American cultural history in Andean South America, and in Mexico, Guatemala, and Honduras, as well.
2) Students will acquire a basic understanding of the development of the three major pre-Hispanic civilizations by gaining knowledge of their art, architecture, and political and social systems.
3) Students will see how the Mayan, Aztec and Incan cultures blended with Spanish-imposed systems to produce the distinctive life-styles of their regions today.
Study Guide:
View Guide
The three leading American civilizations at the time of the Spanish conquest were the Mayas and Aztecs of Mexico and the Incas of South America. Explore their cultures and learn about their achievements.