For study guides, learning objectives, and more please click the image or detail link.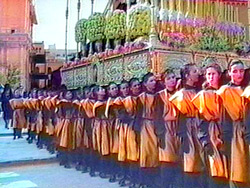 Price:
$39.95.
Length:
22 Minutes.
Number of Parts:
1.
Release Date:
7/23/2004.
UPC:
693940206030.
Features:
Region Free.
Learning Objectives:
1) Students will learn about traditions that surround Holy Week in Spain.
2) Students will be given a sense of the color and pageantry that accompany Holy Week in Spain.
3) Students will develop a better appreciation for Spanish culture.
Study Guide:
View Guide
Spain's deeply religious people celebrate Easter with much pageantry and spectacle - without losing sight of the reason for the holiday. Reverence and joy infuse this very special time of the year.