For study guides, learning objectives, and more please click the image or detail link.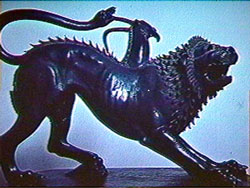 Price:
$79.95.
Length:
31 Minutes.
Number of Parts:
1.
Release Date:
7/12/2004.
UPC:
693940201738.
Features:
Region Free.
Learning Objectives:
1) To examine existing theories about the origins of the Etruscan people and to examine ways in which Etruscan society flourished.
2) To examine how Etruscan society was structured and to understand how city-states interacted.
3) To discuss reasons why there is limited historical record of the Etruscans.
Study Guide:
View Guide
The Etruscans produced an early civilization on the Italian Peninsula. Tomb relics are now revealing their story.