For study guides, learning objectives, and more please click the image or detail link.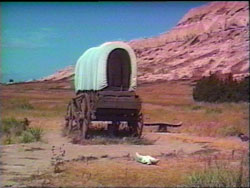 Price:
$29.95.
Length:
44 Minutes.
Number of Parts:
1.
Release Date:
4/28/2004.
UPC:
693940195839.
Features:
Region Free.
Learning Objectives:
1) Diary entries of travelers on the Oregon Trail will be shared and the feelings of the pioneers as they encountered areas of the Oregon Country will be revealed.
2) The relationship between the travelers and the Indians who resided along the Oregon Trail will be considered.
3) The routes taken will be traced, stops made by travelers as they journeyed throughout the Oregon Country will be pinpointed, and obstacles that those travelers overcame will be identified.
Study Guide:
View Guide
The thousands of pioneers who trekked to Oregon solidified America's claim that it was a two-ocean nation. Follow Manifest Destiny's self-fulfilling prophecy.