For study guides, learning objectives, and more please click the image or detail link.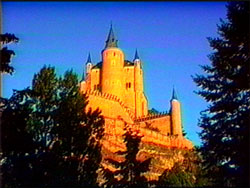 Price:
$39.95.
Length:
52 Minutes.
Number of Parts:
1.
Release Date:
4/12/2004.
UPC:
693940193934.
Features:
Region Free.
Learning Objectives:
1) The student will learn about where many of Spain's most notable monuments are located.
2) The monuments will help the student to appreciate the important historical moments which have been experienced by the people who have inhabited this Iberian country.
3) The student will learn about people and events which have shaped the Spain of today.
Study Guide:
View Guide
Spain has had a long and colorful history. Spanning a period of time from the prehistoric age to the present, Spain's many monuments tell the story of a proud land which has experienced moments of intense glory tempered by periods of painful subjugation.