For study guides, learning objectives, and more please click the image or detail link.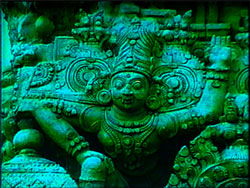 Price:
$29.95.
Length:
25 Minutes.
Number of Parts:
1.
Release Date:
4/12/2004.
UPC:
693940184635.
Features:
Region Free.
Learning Objectives:
1) The origins of the Hindu religion will be examined and various modern manifestations of this religion will be highlighted.
2) Students will learn about the pantheon of Hindu deities, the main terms and concepts of Hinduism will be explained, and ways in which worshippers seek to reach their religious goals will be shown.
3) Students will see the workings of a complex cultural tradition that is very different from their own.
Study Guide:
View Guide
Visit historic Benares and see how a religious tradition, at least 5,000 years old, remains vital today. The major deities and their purposes are examined.