For study guides, learning objectives, and more please click the image or detail link.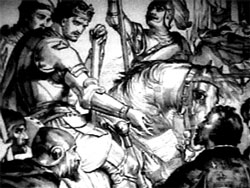 Price:
$79.95.
Length:
65 Minutes.
Number of Parts:
1.
Release Date:
4/12/2004.
UPC:
693940182532.
Features:
Region Free.
Learning Objectives:
1) Students will be introduced to the historical epochs of French literature.
2) Students will be learn about the major writers of French literature, and they will be provided with explanations of various writing style.
3) Various literary schools and movements in French literature will be documented.
4) Students will practice comprehension of spoken French.
Study Guide:
View Guide
This selective history of authors and of periods of French literature begins with the origin of the French language and continues through contemporary times.