For study guides, learning objectives, and more please click the image or detail link.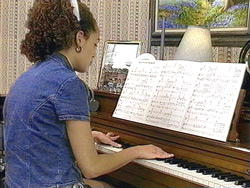 Price:
$19.95.
Length:
25 Minutes.
Number of Parts:
1.
Release Date:
10/15/2003.
UPC:
693940164033.
Features:
Region Free.
Learning Objectives:
1) To teach the student about the musical alphabet.
2) To educate the student about how to play the piano.
3) To teach the student about the ways music can enrich ones life.
Study Guide:
View Guide
Discover the importance of music in our lives. Learn about the essentials of reading music through state-of-the-art computer animation. Experience what music can do for you.